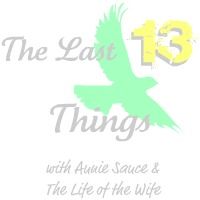 Hey Y'all! So I decided to partake in this sweet series for Thursdays called The Last 13 Things or Thursday 13... please bare with me as I am new to this link up and please let me know if I did it wrong haha. Enjoy!
Ate
:
A whole can of green beans (yes I am weird like that)
Listened To
:
If I Didn't Know Better by The Civil Wars (If you have never heard this song before I encourage you to go to noisetrade.com and download it)
Watched:
Stalked on I.D. (Oh my goodness there are some weirdos out there!)
Purchased
:
gas... where else would all my money go... gas and bills haha!
Wore
:
Blue jeans, blue cami and pink v-neck tee (all from Norstrom Rack)
Thought:
How blessed am I to have gotten so many Facebook page fans from the Spread the Love Facebook Hop today!
Drank:
Coffee and aqua... two drinks at one time
Wanted to buy
:
The book Heaven is for Real (luckily a friend gave me a copy he had already read)
Prayed For
:
God to draw me closer to Him and help me focus.
Painted On My Nails
:
Nothing... I need to do this!
Craved
:
Hot chocolate/Mocha and a hot fudge sundae from MacDonald's
Wished For
:
Focus. So that I may quick wasting all my time and really focus on God's purpose for me.
P.S. I still have March Sponsor Spots so please
contact me
if you are interested. I do the swap thang!